She'll show you how to build a witches apothecary.
During the month of September, she'll post a series of free video tutorials where
she'll walk you step by step through the process of creating your own apothecary.
As part of the event she'll be having a special giveaway for those who build their own apothecary.
More details will be announced as the date for the event draws closer.
I hope you'll join in the fun and help me spread the word by visiting
Artfully Musing
and leaving a comment on her page & by grabbing the code below for the event badge!
CODE FOR THE APOTHECARY EVENT BADGE - Link via pics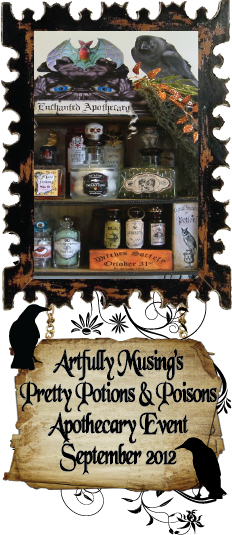 Hopefully you will join in the fun, its an excuse to get those bottles out and apply some creativity :0)
love & light
Trace
xoxo